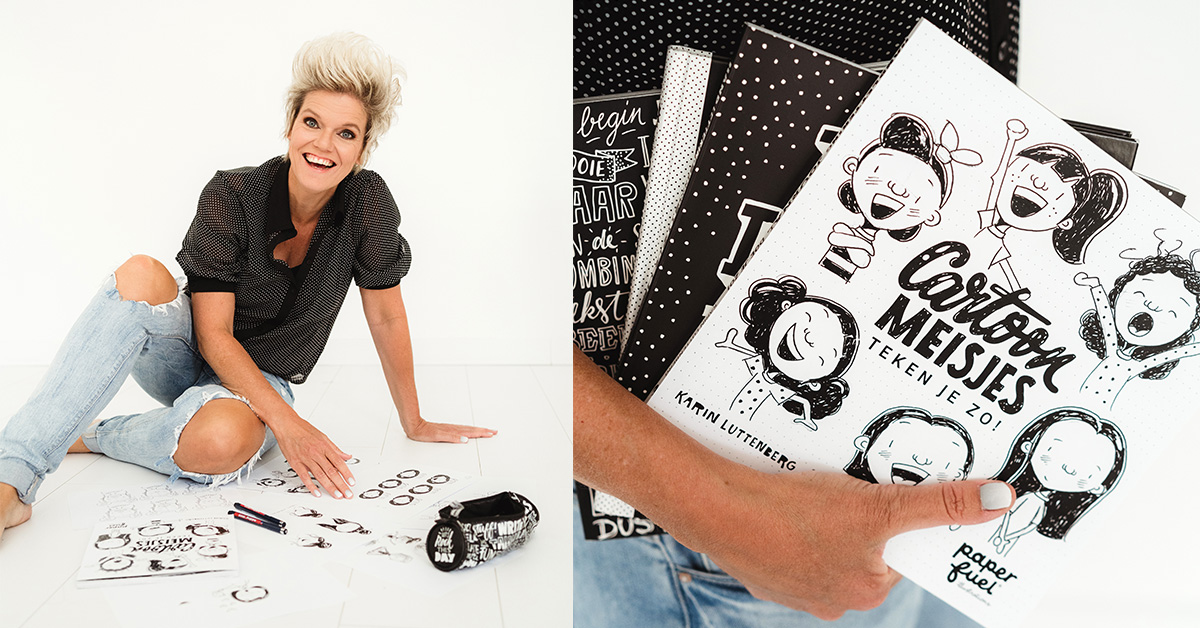 'Cartoonmeisjes teken je zo' (in English: 'This is how you draw cartoon girls') is already the 13th book by Dutch handletter and doodle queen Karin Luttenberg. Karin is the creator of the famous brand Paperfuel. With her typical black and white style, she knows, like no other, how to inspire both young and old to pick up a pencil or pen and draw. Together with Vaessen Creative, she created the Cartoon Girl Toolbox, designed especially for 'Cartoonmeisjes teken je zo'. It has everything you need to start drawing cartoon girls right away: various types of black and white paper, including a sketchbook and portrait paper, paper frames, pencils, washi tape, office clips and a border punch. All of this is in Paperfuels signature black and white style. In the run-up to the launch of her new book and toolbox, we got to interview her!

Back to paper
She has some impressive achievements under her belt. Karin sold over 300,000 books, was in the Bestseller top 60 for over a year, has her own stationery and hobby line, is followed by 43,000+ people on Instagram and temporarily even had her very own TV show. Even Walt Disney knew how to find her to design a hand-lettered princess poster.
And to think that Karin's adventure began just 6 years ago when she shared her hand-letter drawings on Instagram. "As a graphic designer, I worked a lot in front of the computer and I wanted to go back to paper, back to basics," Karin says. "One day there was a small hand-letter booklet in FLOW magazine and I thought: that would be fun to make! Later, someone asked if there were also greetings cards with my drawings and that's how the ball started rolling." A well-known lifestyle magazine promoted her greeting cards and not long afterwards Karin was asked if she wanted to host a workshop at the Flavourites Live fair. "I had never hosted a workshop before, so I was completely out of my comfort zone, but it was very cool to do. Besides, my presence at the fair also brought me many new connections." And so one day Karin received a call asking if she would like to write a hand lettering book. That book became 'Handlettering doe je zo!' (in English: 'This is how to hand letter!'), of which the 21st edition has now been published.
Inspiration can be trained
A new book with a brand new toolbox, her range of stationery and craft products, workshops, social media... With so much to do, you wonder where Karin gets all of her energy from? "Yes, it is a lot. That's probably because I'm a mega control freak," Karin laughs. "I like to do as much as I can myself. Fortunately, I work very well under pressure. I get a lot of work done and often come up with the best ideas. Of course, it is still very hard work. Sometimes people think that I just sit around drawing all day, haha... But there is a lot more to it. The variation between all those different projects makes it fun though. I also really enjoy working with Vaessen Creative and coming up with new products."
But how does she stay so creative? Where does she get all the inspiration from? "I can get inspiration from anywhere, all day long. For example, the other day I saw a little mouse during my afternoon walk. So I'll do something with that later. You just have to look around you. Find inspiration in simple, everyday things. If you teach yourself to look carefully, you will see inspiration everywhere. Someone I follow on Instagram, for example, draws all kinds of different shoes. Very simple but still very funny.

Contagious energy
When talking to Karin you can feel her contagious energy, the fire of someone always busy, always creating and thinking of new things. Despite all the different things she does, she prefers to go back to basics. "Drawing is my favourite thing," she says with conviction. "I draw all kinds of things on paper, my ideas, an Insta-post, a commission or an illustration. I prefer to draw with a pencil or fine liner - my basic drawing supplies. For a while now I've also been working with Winsor & Newton alcohol markers, which are good and affordable. I like that you can just start using these materials, they are easy to use and you don't have to clean up afterwards. I hate that last part."
Cartoon girls book
The cartoon girl from Karin's latest book 'Cartoonmeisjes teken je zo!' also appeared in Karin's first book about hand-lettering, to illustrate daily recurring events. In this book, the cartoon girl has the leading role. "It's very funny to see how the girl has changed since the first drawing in 2015," Karin says. "The nose, for example, was a straight little 'roof' at first and now it's a round nose. I started drawing more and more of these girls and was also sometimes asked if I could give a course in drawing them. So then I thought: how nice would it be if people could draw these girls too? That is how the idea for this book came about."
Lots of examples
The book has the same structure as her previous DIY books. Starting from the basics, Karin guides you step by step through the drawing process. "It starts very simply with the proportions of a face. On the next page, I show you how to adjust these proportions. You learn how to make different mouths and eyes, but also how to draw different emotions. Step by step you go further and further - how do you put the arms in different positions, for example? - until you can finally draw a complete girl."
Besides her easy-to-follow explanations, the book is full of examples of different girls, emotions, poses and so on. "I missed that in other books, where there was a lot of text but few drawings. That is why I wanted lots of examples in this book. There are also a lot of examples of different types of hair because people often find that difficult to draw."

Cartoon Girls Toolbox
The idea of the matching toolbox came about at the same time as the book. "The 'Dare to Doodle' book also came with a nice starter set, but that mainly contained paper. Working with Vaessen Creative gives me more possibilities. So I immediately started thinking about what I wanted in it. Products that are not only practical for drawing cartoon girls, like different kinds of paper and pencils, but also things that make it extra fun, like a border punch, black office clips, washi tape and paper frames that you can put your 'portraits' in right away. It's very cool to see how your products come to life!"
Colours and clothing
Paperfuel is known for its typical black and white style. Nevertheless, together with Vaessen Creative, Karin has developed a watercolour set in retro colours that will be released later this year. Is she going to let go of black and white after all? "I've been thinking about that question for a while now..." she says, drifting off. "It really has to suit me. Black and white suits me and so does retro. For example, our whole interior at home is black and white with old typewriters and a retro jukebox. But it is still difficult, choosing to go for colour. Time will tell, maybe this watercolour set is a new beginning."
Almost all her dreams have come true so far: making and publishing a book herself, creating a stationery and hobby range and even her own television programme. Still, plenty of dreams remain. "I want my own clothing line!" she exclaims enthusiastically. "That seems so cool to me! I like clothes, it would be so exciting to do that, a new challenge." And then she lets it go again. "Maybe it's something for the future. When the time is right, it will come," she grins.
Discovering talent
Getting people to start drawing is Karin's passion. "I think it's great that I can get people to start drawing with my work, my books and my workshops. Sometimes I even receive messages from people who tell me that I helped them out of their depression. Or that my live sessions on Instagram helped people through that difficult time of corona. Then I think: wow... I think it's cool when people, young and old, discover that they can draw when they draw along with me or with my books. Some people have a lot of talent but only discover it when they are older. Isn't that great?"
Stay curious
For anyone who wants to be creative, Karin has a great tip. "Stay curious! I am always curious about new things. That way I learn a lot and always discover something new. And never look far away, but stay close to yourself." Perhaps the latter is the secret behind the success of the Paperfuel brand, which completely radiates Karin Luttenberg in the bold black and white and the energetic illustrations.
Photography: Lizet Beek