Give old packaging a second life
Inexpensive crafts are always a great idea! The most surprising scrap materials make for excellent and creative DIY projects. A lot of what you may normally throw away is suitable for crafting. In this blog, we provide you with several ideas for getting creative with materials that you probably already have at home. You can then make the most beautiful vases and plant pots. Get inspired and start right away.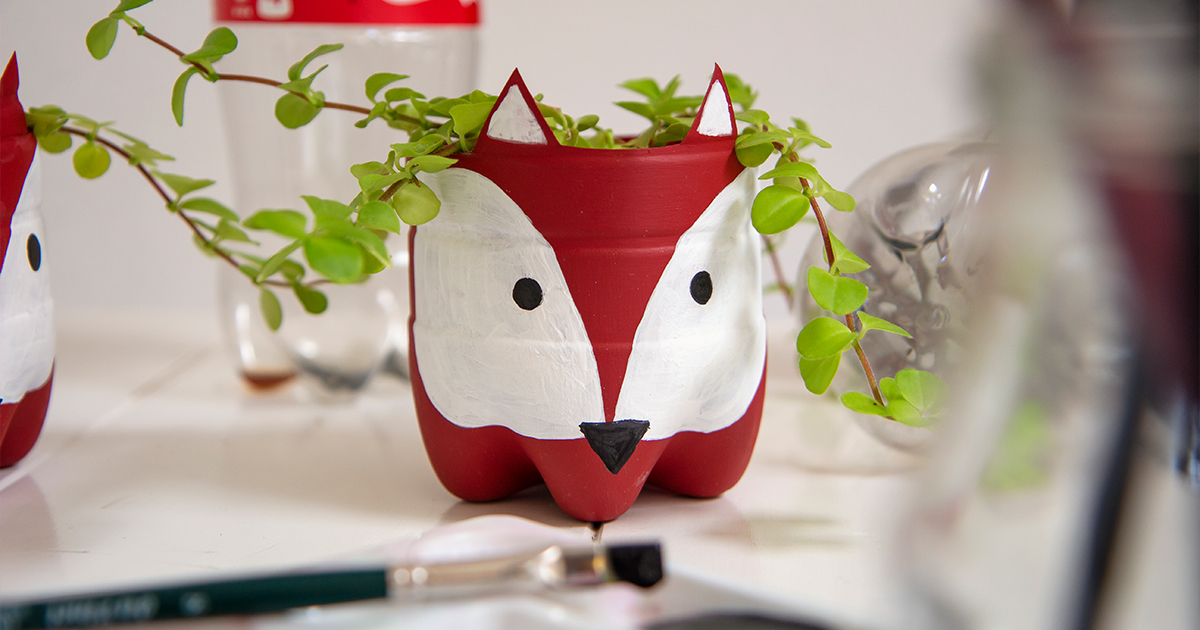 Cheerful animal containers made of PET bottles
Create these adorable containers in the shape of animal figures for your pens, pencils or even a plant! This is what you need: one or more PET bottles, a waterproof pen, a sharp knife, various acrylic paint colours of your choice and varnish if required.
Start by drawing a cutting line; the shape of the ears determines which animal you will be making. Next, carefully cut the PET bottle and start painting the outside. Always have an adult do this. Once the paint is dry, you can varnish the container to finish it off. Which animal will you make?

Making a plant pot from old glassware
You'll never again look at glass jars the same way once you know how much fun you can have with them! By adding lots of small speckles or dots, you can turn glass otherwise destined for the bottle bin into the most beautiful plant pots. All you need is some glass paint and a wooden skewer, or a glass marker. In this example, we have cut out letters and placed dots around them. You can do this by hand or apply letter templates that you remove once the paint is dry. Do you have a steady hand? Start by making the outline of the letters and then fill them in with dots. It's completely up to you.

Empty tins transformed into trendy vases
The photo says it all! A project doesn't have to be a lot of work to create that wow effect. Got any empty tins? Rinse them clean under the tap and carefully crush them to give them a nice structure. Make sure that they can still stand up. For a playful effect, choose different tin sizes. Then spray them in your favourite colours! We are fans of the matte paint sprays from Edding in the photo. Allow them to dry completely and then decorate them with your favourite flowers.

Vases made of egg cartons
The most unexpected materials can produce brilliant effects. By cutting, folding, flattening and gluing egg cartons together in different ways, you can create different structures and heights. Make it easy on yourself by using an existing glass vase as the starting point. Work around the vase with the egg cartons. That gives you a water-resistant foundation right away. Spray them in the colour of your choice or leave them as they are for a more natural effect.
Want to know more about these projects? Keep an eye on our Instagram page for more inspiration or share your own creations using the hashtag #craftedtosmile.